Just before Christmas I took part in two very different conferences, which brought into to stark relief the challenges facing those of us promoting a substantial and rapid reduction in global emissions.
The first event was the prestigious "EngTalk – Excellence in Engineering & Factory Management" event in Berlin, which was attended by over 50 very senior global executives in leading manufacturing firms with roles such as "Director of Innovation", "VP Manufacturing", "Industrial Director", "Head of Engineering" from organisations as diverse as Airbus, Bayer, GE,  Philip Morris International, Philips, Pirelli, Magna, Novartis,  Siemens and Volvo. Although there were presentations, it was less of a conference and more of a networking and idea-sharing event taking place over two days with a strong emphasis on one-to-one meetings and discussions.
My role in the conference was to support Arne Springorun the MD of HE Consulting, an efficiency consultancy based in Prague with which I have had a long and enjoyable collaboration on successful projects such as an energy efficiency programme at SKODA CARS Mlada Boleslav Plant in the Czech Republic. I shared a presentation with Arne and it fell to me, as you can see below, to communicate the urgency of our response to climate change.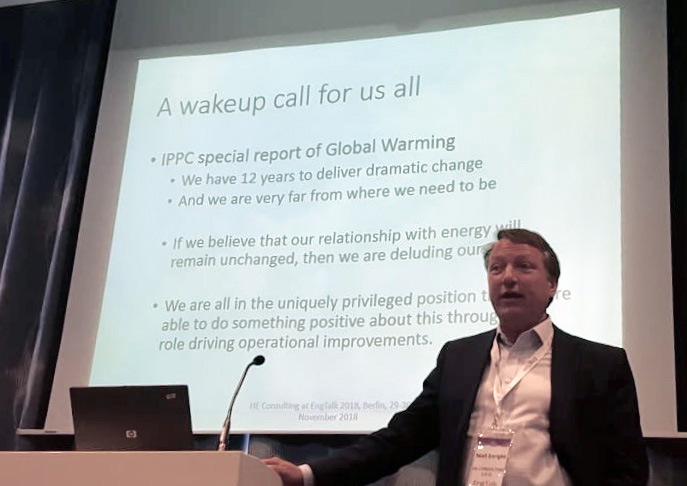 For a conference that was focusing on the major technical challenges facing manufacturing, the critical – dare I say it, existential – topic of "how to do more with less" was conspicuously absent. The big themes were Automation 4.0, Artificial Intelligence, Virtual and Enhanced Reality, Digitilazation and Big Data. With the exception of the pitch from some innovative compressed air systems manufacturers, energy efficiency was not mentioned by other presenters.
In the 20+ one-to-one conversations I held with these senior executives, there was acknowledgement that climate change is part of the manufacturing agenda. But I got the impression that this was very much taken for granted, placed in the "problem solved" or "in hand" category; an issue to be dealt with in due course, but considerably lower priority than responding to the rapid changes coming about due to technological innovation.  And yet it is these folks – the people who help shape the strategic and investment decisions for their organisations –  who have a commanding role in solving the climate change challenge in industry.