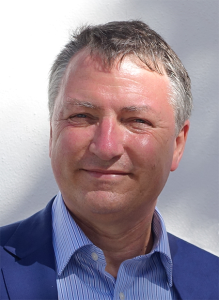 Niall Enright is the Director and founder of SustainSuccess.  He is a sciences graduate from Cambridge University, a Fellow of the Energy Institute and a Chartered Energy Manager.
Niall has over 30 years' experience in climate change and sustainability – with a particular focus on organisational change and performance improvement. He is a results-driven individual who relishes challenging assignments where he can add real value.
With a wealth of practical knowledge drawn from an extensive range of sectors across Europe, Asia and North America, Niall is frequently asked to advise on strategic issues at senior level. A pragmatist with strong commercial acumen, he consistently helps clients align environmental and business performance.
Niall's expertise is in implementation – delivering programs that achieve concrete, measurable results. A good understanding of data analysis and information systems has made Niall a recognised expert in the field of management information applications for climate change mitigation. He understands the practical organisational barriers to change and is able to develop programs which can add value in even the most challenging commercial environments. His track record across hundreds of energy efficiency, resource efficiency and sustainability projects globally is outstanding and clients consistently value the team-work, expertise, professionalism and competence which Niall brings to projects.
One of Niall's strengths is that he is a natural implementer – not just a talker. He is very goal-oriented, tenacious and thrives on achieving targets.
– Martin Lewis, Managing Director Services, Tribal Education Ltd.
An important aspect of sustaining change is getting behavioural change at all levels of an organisation – Niall has strong communications skills and can operate from shop floor to Boardroom. Niall also speaks several European languages well and is able to deliver entirely in Spanish or French.
Niall's presentation skills and his ability to understand and engage potential customers are impressive.
– Donald Gilligan, Predicate LLC, Boston USA.
Niall's expertise has been primarily in the private sector, in oil and  gas, resources, industrial, energy, hospitality, commercial and property sectors. However Niall does also have considerable experience in a number of public sectors such as healthcare, government departments and education.  He has recently spent 8 years acting as Interim Sustainability Director, reporting to the Main Board of Peel Holdings, a $10bn privately-owned property, leisure and infrastructure businesses with assets spanning retail, commercial property, airports, media, film studios, sports and events, energy generation, ports and recreation. This role has been focused around identifying, prioritising and managing risks and opportunities relating to sustainability – working closely with Peel staff to create the structures and process to ensure future excellence and add value to the business.
Niall has had management positions within a number of leading consulting businesses and so has a deep appreciation of the importance of client satisfaction and quality of service.
I have no hesitation in recommending Niall…. He is a very professional individual who presented us to clients in a very positive manner.  He is a hard working person who can think strategically but also deliver on the detail. His knowledge of climate change and sustainability issues internationally is second to none and he was very much our "guru" on these subjects.
– Graham Cox, Managing Director, RPS P&D UK.
Niall is seen as an authority on "management strategies and systems to mitigate climate change, while enhancing financial performance". Conferences where Niall has presented include the prestigious NAESCO and Rocky Mountain Institute Conferences in the US; Automotive Manufactures Conference in Canada; and IAIA08 in Perth, Australia, where Niall was a session chair for Climate Change; the Green Buildings Council Conference in Cape Town in 2009; UNEP FI Global Round Table;  the Czech Green Building Council Conference in Prague in 2012; and the Sustainable Cities Summit in Dubai in 2016.
Niall's enthusiasm for his profession and desire to share his knowledge with others has led to him writing a major book on energy and resource efficiency, which provides a framework which will help organizations overcome the many barriers to success, as well as detailing hundreds of techniques which will help fellow practitioners drive change.
---
Education

BA Hons. Medical Sciences, St Catharine's College, University of Cambridge
MA (Cantab), Darwin College, University of Cambridge.

Fields of Competence

All aspects of Energy and Resource Efficiency
Climate Change and Sustainability Strategy
Large-scale Change Management Programs
Performance Measurement
Quantification of  direct and supply chain Emissions; Science Based Targets
Cost Reduction and related financial or economic analysis
Management Information Systems
Executive Coaching and Public Speaking
Service Industry leadership and management
Mentoring, Training and Adult Learning.

Key Industry Sectors

Manufacturing, Chemicals, Food and Drink, Dairy, Tobacco, Automotive and Metals Industries
Oil, Gas and Extractive Sectors
Property development and asset management
Energy generation, distribution and sales
Supermarkets and other retailers
Offices, Hotels and Leisure
Airports, Ports and Logistics
Wide range of public sectors, including education, government and healthcare.

Technical Expertise

Advanced Excel application development and data analysis
Publishing

Languages

| | | |
| --- | --- | --- |
| | English | Native |
| | Spanish: | Fluent |
| | French: | Good |
| | Italian: | Fair |
| | Portuguese: | Basic |
| | German: | Basic |

Chartered Energy Manager
Fellow of the Energy Institute