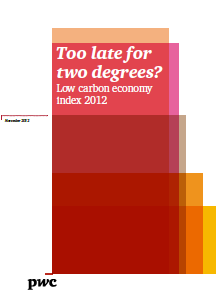 The Japanese have a word Mottainai which "reflects a sense of regret concerning waste" which can "lead to anger or protest when the person who is observing the utter waste is incapable of holding back their emotions". Well that sure sounds like a polite way of describing how I am feeling just now….
Why? Well I have just read a new report from PWC: Too late for two degrees? which makes very sobering reading.
We know that each year that we allow CO2 and other greenhouse gasses to accumulate in the atmosphere means that subsequent reductions need to be greater.
Back in 2000, in order to have a 50% change of global temperature rises not exceeding 2 degrees Centigrade, we needed to decarbonise our economy at the rate of 3.7% per annum to 2050. Today that target has risen to 5.1% a year because we have wasted the last decade with an average global rate of decarbonisation of just 0.8% a year.