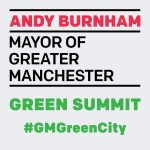 It was a privilege to participate in the Manchester Green Summit yesterday as the event was heavily over-subscribed. I found the meeting very stimulating with a wide range of views about how Manchester could become the "Greenest" City Region in the UK. Here are my semi-random thoughts on the event…
Andy Burnham, the Mayor of Greater Manchester, started proceeding by setting out an aspiration for Manchester to become a zero-carbon city  – although he did not pledge a specific date to achieve this, he did suggest that we should be bold and commit to achieving this at least a decade earlier than the current 2050 target date.
The reason we need this level of urgency was starkly presented by Kevin Anderson from the Tyndal Centre. His brilliant talk cut through all the complexities surrounding emissions goals and reminded us that there is only one thing that matters – the absolute CO2 emissions that we put into the atmosphere. According to research by him and his colleagues we (Greater Manchester) have a budget of just 71 million tonnes of CO2 in order to meet the 2 ºC target we signed up to in the Paris Agreement.  At current rates of emissions we will spend this in just 5-6 years.