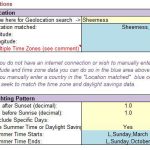 Just to let everyone know that I have uploaded my new Lighting Hours tool, which is free!
This was jolly fun to develop as it is a "mashup" between some code that Greg Pelletier developed which uses astronomical data to calculate sunrise and sunset at a given latitude and longitude, and some additional code from Jamie Bull which does a sexy internet lookup of a place name, postcode, landmark etc via Google Maps and returns a latitude and longitude. Add into the mix some nifty working out of TimeZones and Daylight Savings dates (e.g. First Sunday in March) for any given year and you end up with something which – IMHO – is quite neat. Hopefully useful too!
Click the link above or select Lighting Hours from the Excel Tools menu to learn more. If you want to download it you will need to give me an email address but you can opt out of marketing or future communications. Enjoy!